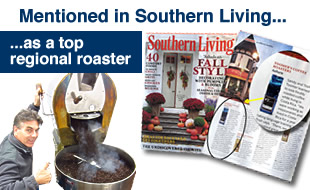 Since 2010 Coffee4Missions coffee has been roasted by regionally recognized roaster, Toomer's Coffee Roasters from Auburn, Alabama.
Toomer's Coffee Roasters has been recognized in magazines such as Southern Living, At Home Tennessee, and East Alabama Living for their high level of skill and quality.
True "artisan roasters" Toomer's roasts in small batches of 15 pounds or less carefully monitoring each batch following their proprietary roast profiles developed over many years. Think of a roast profile as a recipe developed for each type of coffee (e.g. Columbian Supremo, Ethiopian Sidamo, etc.).  Toomer's began roasting for their  retail coffee shop in 2006 and their reputation [for their shop's artisan grade coffees] has driven their popularity around the southeast far beyond the four walls of their retail shop.
In addition Sandy & Trish Toomer were field missionaries with Mission Aviation Fellowship for 14 years. Sandy flew as a pilot for MAF in and out of the rainforest airstrips in the eastern jungle of Ecuador for thousands of hours. On many occasions he would pick up green coffee beans from coffee farmers, transporting them to market.
They also spent a year living in San Jose, Costa Rica where they studied Spanish prior to their missionary service in Ecuador. There Trish and Sandy regulary visited local coffee farms and processing plants cupping local favorites with the growers.
Next to the Lord and their two children, they love their coffee! It shows.
If you have any questions do not hesitate to contact us or feel free to call them directly.
Blessings!