The most common compliments we receive about our coffees are it's smoothness, lack of bitter after taste and it's doesn't upset you stomach. These compliments are the antithesis of comments you hear about other coffees. In fact many people switch to drinking their morning cup black after switching ours. Why is that?
You start with great coffee beans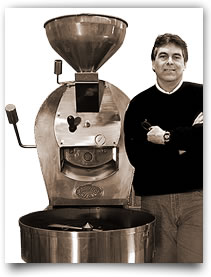 All Coffee4Missions coffees are sourced through various brokers and direct trade importers. However first and foremost of importance to us is the quality of the green bean. While we applaud the Fair Trade concept we prefer to work through the Direct Trade model supply chain as much as possible.
With Direct Trade we purchase directly from a region through a national broker, often associated with the farm or coop selling the coffee. However we have great connections with several US based brokers who own their own farms around the world. Through them we can also source excellent Direct Trade coffees, organic coffees, etc.
However in all cases the bottom line is this: How does it taste after it is roasted?
Next you use a world class roaster
We use a Dietrich 7 Kilo Infrared Roaster. Infrared roasting gently coaxes the best out of the bean while leaving behind the premium quality tastes and aromas the worlds best coffees share in common.
Only 2% of all coffee roasted in the world uses this method, so needless to say it is considered an exclusive process.
For a more in depth article, Toomer's Coffee Roasters Roastmaster, Sandy Toomer, wrote this informative article that is widely search and read on the internet.
In the end you don't have to sacrifice quality for the cause
The best coffees roasted the best they can be roasted. That's what it's all about.
We believe more and more churches, ministries, Christian owned businesses and individuals will choose our coffees over others not just for the artisan quality but because we give back a portion of the profits to missions. A double portion blessing!
Remember: Great coffee supporting the Great Commission!