It's the missionary in us, but our heart is to see churches get outside of their four walls and reach the unbelieving world in a compelling, contemporary, manner with the consistent message of Christ's love, grace and forgiveness. The coffee shop is one of the means.

Sandy Toomer / Co-Founder Coffee 4 Missions
Leonard Sweet, in his 2007 book, "The Gospel According to Starbucks®" says we don't stand in line at Starbucks® just for a cup of coffee, it's for the whole experience surrounding that cup.

Church coffee shops have been almost ubiquitous in the evangelical mega church community landscape for quite sometime. Today church run or sponsored coffee shops have crossed the line, though, from simply pop Christian culture to pervasive. Even smaller congregations are adding a coffee bar to their foyers right next to the "Welcome Desk".
Why is that?
Coffee: The Social Lubricant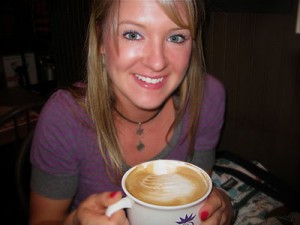 Coffee has become a hospitality ritual today. It is also a comfort food, if you will. So if you put the two together, one would surmise, coffee creates a sense warmth, of hope and trust you can hold in your hands.  Let's face it, for a real coffee lover, it doesn't get much better than a warm cup of coffee in your hands to relax and rejuvenate your spirit almost anytime.
I remember when I was hiking a mountain in Costa Rica one weekend with fellow missionary language student friends. The hike was over 25 miles from 1500 feet to over 10,000 feet above sea level with a heavy pack. The last hour or so I was in a chilly drizzle on the muddy trail. Reaching the summit, I found a Park Ranger's cabin to check in. Wet, cold and zonked I knocked on the door.
Entering I found the two rangers around a wood fed, iron stove. They immediately offered me great Costa Rican coffee (Is there anything else?). We sat around that stove for about 15 minutes, chatting and drinking coffee. I signed my paperwork, got the cabin key and left there smiling. The ten hours on the trail, the sore shoulders, the wet shoes, all had faded. I was alive again.

So take that image and transfer it to your church lobby on any given Sunday.
People enter, visitors and members alike. They've all been on their own trails of life for the past 6 days. Many are spiritually tired and wet.
Then they see the coffee shop. Today, as coffee shops (ala Starbucks) have  become so pervasive in American culture, we have more or less, a society of coffee connoisseurs. Especially amongst the 18-34 demographic.
The fragrance of coffee is manifest and immediately the happy-zone bias of both visitors and members alike kicks in. Add a smiling barista, the subconsciously environmental resonate notes of milk being steamed for a latté, the visuals of fresh pastries even and we're all in that Costa Rican cabin with those Park Rangers. The damp and chill of the week's trail is forgotten. There is hope!
Coffee is a simile for sharing the Gospel!
Think of the coffee you provide as a suitable simile to the Gospel to both non-believers and believers when they enter your doors.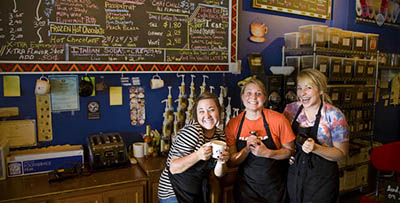 Standing or sitting people will gather where there is coffee. There is a common bond of communion among coffee drinkers. And lets face it, coffee is the most consumed beverage on the planet next to water. In its own way it's kind of omnipresent 🙂  It is also the most universally accepted beverage worldwide. It crosses cultural and ethnic barriers. I would even go so far as to say it crosses language barriers often.
Mark Batterson, Pastor at National Community Church in Washington D.C. puts it this way in a recent NY Times article:
"We felt like Jesus didn't hang out at the synagogue, he hung out at wells," he said. "Coffeehouses are postmodern wells. Let's not wait for people to come to us, let's go to them."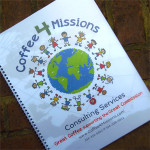 I remember once as a pilot for MAF I had taken a jungle ministry group of national believers out to a remote Quechua village on the Ecuador/Peruvian border to show the Jesus film. We had stayed up, showing the film and answering questions and sharing the Gospel late into the night. Then it rained all night after we went to bed. Jungle rain: hard, heavy and loud. By the next AM we were all way out of our comfort zone being damp from the intense humidity and just a little tired.
The village spokesman knocked on our tent and  offered breakfast mostly of fruit and some boiled fish caught in the nearby Amazon river tributary. But when I got to the  table in the thatch roof kitchen, sitting on each banana leaf was a cheap plastic cup and a pack of Nescafé instant coffee. Wow! Just seeing it energized us all. I dumped the brown crystals into the waiting cup of boiled water and stirred. Holding up my cup of coffee, the village Chief across from me held his cup up and in a toast like fashion said in "Muy bueno. Sí?" (Very good. Yes?).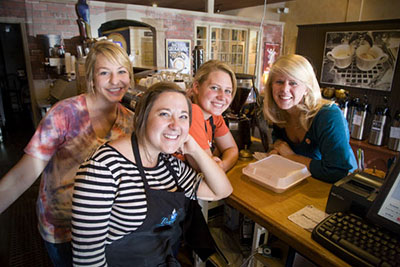 Isn't that how people should react to Jesus? He can make everything right when the dampness and chill of life is weighing us all down. His Spirit crosses all barriers. He is warmth and comfort. He brings hope and is our eternal basis of trust.
Coffee can be a simile for all this, a green light to ministry, an opportunity to share.
Need help setting up your coffee shop? Leverage our experience to your advantage. Put our ten years of very successful experience both in the retail coffee shop design and management world plus great custom roasted coffee to your advantage. 
We would like to help you do this right. Too often we see churches get the concept but fail in the follow though.
As mentioned earlier, the prime demographic for coffee shop ministry is 18-34. Within that demographic you have a VERY sophisticated coffee consumer. There are certain basic expectations you need to understand and meet in your coffee shop ministry for it to be rich and rewarding experience for everyone.
Equipment costs, space layout, menu design, drink preparation, and even training are all areas we have helped many with over the years.


One of our current church clients today first called months ago, expressing their desire to start a church coffee shop. In fact the experienced Food Service Director of this large and established church had already begun pricing espresso machines. She was in "sticker-shock" when she called, having just been quoted $15,000 for a new espresso machine by an on-line retailer. We calmed her concerns and found her the perfect FAEMA machine, an industry standard, brand new and under warranty for around $4500. By the time they opened we had helped cut her initial budget by about 50%. That's significant.
Add to that our exclusive training and design services and she will tell you, "I couldn't have done this without you". Here are her own words:
"We opened our Café 246 coffee shop last year and wanted a high quality coffee at a reasonable price but also a coffee company with a higher purpose and ideals than simply us selling coffee. What a tall order!

We found everything we were looking for and more in Coffee 4 Missions and Toomer's Coffee Roasters.

It is outstanding coffee; our people love it and purchase bags to enjoy at home. The company/people are of the highest caliber, honest, and dependable; they will do whatever it takes to be sure we have what we need when we need it.

What I appreciate most is the help they gave us prior to opening our coffee service – they helped with design and layout, equipment procurement, lots of encouragement, training of our staff, and were on-site the day we opened!

You cannot go wrong purchasing coffee from this outstanding company- you will receive great coffee at a reasonable price and have a good feeling knowing you are helping to support missions… one cup at a time."

Mary Lou Herald
Food Service Director
Whitesburg Baptist Church
Huntsville, AL
In the end, all we ask is that you use our coffee because that's what we're about..serving Great coffee for the Great Commission.

But why wouldn't you? It has been recognized in many publications including Southern Living Magazine. We use primarily Direct Trade coffees so you know you are being fiscally responsible in your purchases. And finally we are tithers ourselves from our business to world missions from the proceeds you would spend with us.
God bless you in your desire to serve Him and be His witness!
Please call us at your convenience or  contact us here to start a dialogue on your coffee shop ministry idea today!