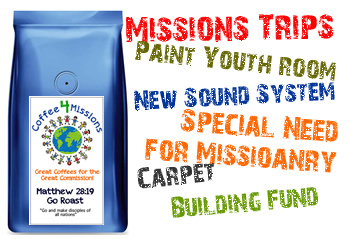 Coffee fundraisers and fundraising make sense. Let's face it: Everyone drinks coffee or knows someone who does.
It's one of the best  fundraising ideas available today. Our premium, artisan roasted coffees raise the bar for your home or church coffee but can also be about the best gift for a true coffee lover.
Whether you are needing funds to support a short term mission trip, help a missionary family your church supports with a special need, or looking for a fun way to introduce your church, team or staff to world missions, our fundraising program is second to none.
It's very simple.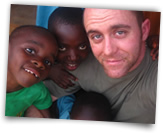 We roast, bag and label our premium coffee, ship it to you within 48 hours of roasting. Your team simply markets it within your local community and/or church keeping the difference between your purchase price and the sale price.
Remember,  "Everyone drinks coffee or knows someone who does".  That equates  (in our experience) with most people making multi-bag purchases both for their home, the office, as well as for gifting.
Net Profits typically* range between 60-100%
This is not an exaggeration or  pie in the sky math.  We have been doing this with ministries, churches, college teams going overseas, short term missions groups and more for many years.
To find out more contact us today by email or feel free to just call us at 334-332-6652 or 334-329-9852 (8 AM- 5PM Central,  M-F)
(*Typical profit based on a recommended resale price based on our knowledge of the coffee industry and current price points. However you are free to market your coffees higher or lower than our recommended retail price point.)