Starting or setting up a church run coffee shop or café is becoming standard fare in today's churches across America. Why is that?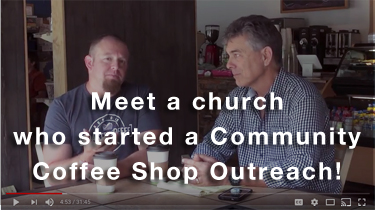 First consider the fact that coffee is the most highly consumed beverage on the planet next to water. Second, it is universally accepted (unlike beer or wine) within the Christian community. Finally, let's not forget the sense of community and fellowship it generates as people hold a warm cup and have their spirits lifted in fellowship with one another.
Bottom line: Coffee shops foster positive energy and atmosphere.  And that's a good thing today! We could all use a bit more of that. Right?
It's the missionary in us, but our heart is to see churches get outside of their four walls and reach the unbelieving world in a compelling, contemporary, manner with the consistent message of Christ's love, grace and forgiveness. The coffee shop is one of the means.  

Sandy Toomer / Co-Founder Coffee 4 Missions

We have been in this business since 2004 and have helped any number of churches and shops set up their cafés. Obviously we would like you to do business with Coffee 4 Missions, but we would also like to make sure you do it right.
Here's another media tool to listen to to help you get a feel for this subject:
Sandy Toomer talks about the two basic Church Café options: in your Church  or in your Community
Consider Levering our Success Through Our Consulting Service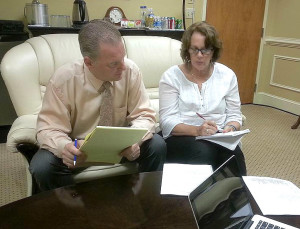 You may want to consider our one-on-one Consulting Service where work travel to you for an affordable fee and sit down with your Church Leadership and their Staff. This has proven to be extremely beneficial to any number of congregations across the US.
That being said, consider this very basic HOW TO GUIDE, a value-added gift to give you some idea of where we are coming from. Keep in mind this is just the tip to the iceberg information. But it is a starting point to get you thinking before we sit down together.
Through our Consulting Service we will help you answer these questions one-on_one formally and in depth.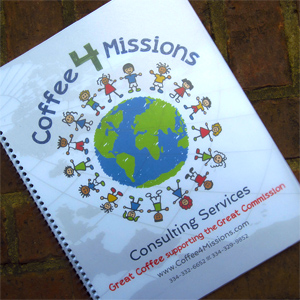 Included as part of our in-house consultation service, is our purposely written handbook that covers such as equipment lists, typical layouts & design as well as sample business plans geared specifically for coffee shops.
We figure you will start to see how we operate and see our hearts for ministry and missions then continue on with us as your coffee roaster and supplier as you look to open your church coffee shop or café.
_________________________
Let's begin…
The most important question you absolutely have to answer is: Will we charge for our coffee or give it away?
There isn't a correct answer here. It's unique to your congregation's needs, the goals of the café, and possibly your congregational view about conducting a selling environment within the four walls of the church. There is no one right answer. So think about this and get everyone on board whatever model you choose.
CONSIDERATIONS RELATED TO THE  PROFIT MODEL:
Profits can be used to fund specific ministries, mission outreach, or fund special projects.
Can provide employment for church staff, college & high school students.
It pays for itself, so it is never a drag on the budget.
Off campus church run coffee shops are a great neutral territory for sharing the Gospel message using a stair-step method:

Provide a great product
Do it with a smile/great customer service
Be consistent
People will notice: "There's just something different here".
Clients will start to ask questions opening the door for sharing Jesus.

Shops that sell can more easily afford to carry better products: better coffee, better smoothie mixes, etc.


.

FACT: The day when you can open a for-profit coffee shop and sell mediocre coffee or just grocery store grade coffees are gone. People no longer visit coffee shops out of curiosity, innocent of what to expect. You have a very educated coffee shop clientele out there today.
CONSIDERATIONS RELATED TO THE NON-PROFIT MODEL:
Great first impression possibly to visitors if the coffee is front and center on Sunday AM's.  Just offering a warm cup of anything is inviting.
Anytime there is a coffee or tea readily available, people will gather around the serving area and talk. That's called fellowship. And that is good.
Being free it will now have to be part of the budget and will not pay for itself. It's an expense.
Being an expense you have to decide whether you want to provide a good grade of coffee or food service grade coffee.


.

FACT: Our experience has been that churches who have switched to our coffee even in the FREE COFFEE MODEL [from hotel or food service grade coffee] immediately notice how few half empty cups they have to pick up and collect after Sunday services and how little un-used coffee is dumped out. In fact their coffee consumption actually goes up some.  But when you weigh that against what was thrown away and dumped out before, it's probably a wash.
The next thing to consider is the build out: The #1 mistake most new coffee shops make is over-spending on the build out.
Coffee shops use a lot of the same items found in a restaurant like ice makers, 3 compartment sinks, under counter refrigerators, blenders and so on.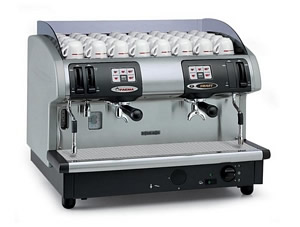 When you can it is advisable to buy USED. Good, used commercial grade equipment holds up well over time. Used can be a few months old or a few years old, but the pricing will be all the about same. Expect to pay about 20-30% of new price for good used equipment. We can guide you on this and have one broker we like to deal with who is a Christian businessman. Whether from him or another source we can often find you what you need for the fairest/best price based on quality. In the end: We know what we are looking at and what it's really worth. We're a great resource.
We have a long list of items we recommend to our clients to buy used and a rough guestimate of prices for planning purposes. This is part of our Consulting Service.
However, we generally  do not recommend buying espresso machines used. There are several reasons.
First the boom in coffee shop growth has led to a lot of sub-standard quality espresso machines being available. They may look pretty and shiny, but inside you often find cheap plumbing, construction & electrical parts and just poor design.  Your espresso machine is the center of your coffee shop universe so you'd best make it a good one.
Second, you have no idea if it was set-up, operated and maintained properly. In our retail shops and those of our clients we recommend daily cleaning of the system with an approved cleaner. Daily or after each use cycle!Also you need to make sure your espresso machine is supplied water that was filtered and MOST IMPORTANLY passed through a water softener system before entering the espresso machine.
You really don't save that much buyingh a used espresso machine. Repairs are expensive, Part s are expensive. A new machine comes with a warranty and service is included for up to year most times.  Plus you can set it up correctly, maintain it correctly and be assured of years of trouble free service from it if new. We have connections with several wholesalers and can get you the best prices on these as well within the sphere of machines we know hold up the best (FAEMA, ASTORIA, et al).
When you buy a used unit, sitting in a warehouse, or someone's garage, you have no idea if any of this has occurred (even if it is a name brand we would recommend).
Finally sell good quality products.
This probably should be number one.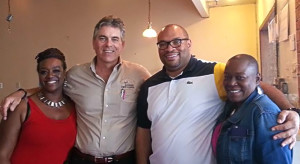 I say that because I am thinking of instances where shops were properly capitalized, used good equipment, but chose to go with downright cheap coffee and/or other products. They are all out of business now.
For example, we actually saw one local owner loading a cart at the local "Big Box Membership Store" with their store brand of coffee. Yet he was still charging for artisan grade coffees. This didn't fool their clientele for long. They can get that at the gas station for 50 cents.

Our coffees, many direct trade,  are sourced from the best regions through the most reputable agencies and roasted to bring out their full flavor and goodness. We use the infrared roasting method which is superior to all other methods. Couple the two characteristics together and you have a winning combination that will keep clients returning again and again and keep you profitable.
Contact us today to help you get started
We have many years of experience, industry knowledge and a network of suppliers that can offer you the best pricing for whatever your needs are.
Mary Lou Herald, Food Service Director at Whitesburg Baptist Church says this about us:
We opened our Café 246 coffee shop last year and wanted a high quality coffee at a reasonable price but also a coffee company with a higher purpose and ideals than simply us selling coffee. What a tall order!

We found everything we were looking for and more in Coffee 4 Missions and Toomer's Coffee Roasters.

It is outstanding coffee; our people love it and purchase bags to enjoy at home. The company/people are of the highest caliber, honest, and dependable; they will do whatever it takes to be sure we have what we need when we need it.

What I appreciate most is the help they gave us prior to opening our coffee service – they helped with design and layout, equipment procurement, lots of encouragement, training of our staff, and were on-site the day we opened!

You cannot go wrong purchasing coffee from this outstanding company- you will receive great coffee at a reasonable price and have a good feeling knowing you are helping to support missions… one cup at a time."
We look forward to hearing from you soon!
God's blessings!
Sandy & Trish