We could say to you "We are coffee roasters. Would you like to buy our coffee?"
We could also say "We know the retail coffee business inside out. Could we help you start a coffee shop?"
While those would all be true they are not WHY we do what we do. And after all, there are a lot of coffee roasters and business consultants are on every corner.
WHY
It's not about WHAT we do or HOW we do what we do.  It's about WHY we do what we do. We call it the Perfect Circle.
As a church or ministry you often have very few purchasing options for electricity, water, trash pickup, plumbing, who you may pay rent to, buy insurance from, and so on.  You may try to do business with like minded people, but frankly too often you have no choice.
But let's consider your coffee.  You use it every Sunday. Many provide it throughout the week. So what if every bag of coffee your church purchased, what if…every cup you poured at every event or meeting or service…what if every sip had a tithe component tied to it by your supplier.
I'm not talking about just doing business with fellow believers, but fellow believers who give back at least 20% or every dollar we receive back into ministries we believe in.
That's Coffee 4 Missions.
That's WHY we do what we do.  Sure, we love the coffee business, we l-o-o-o-o-v-e coffee, but we see it not only as our vocation but as our ministry. This is why we say we are a Business in Ministry.  We are.
Our logo graphically shows the Perfect Circle we are living out with each coffee purchase, each consulting trip, each video we produce.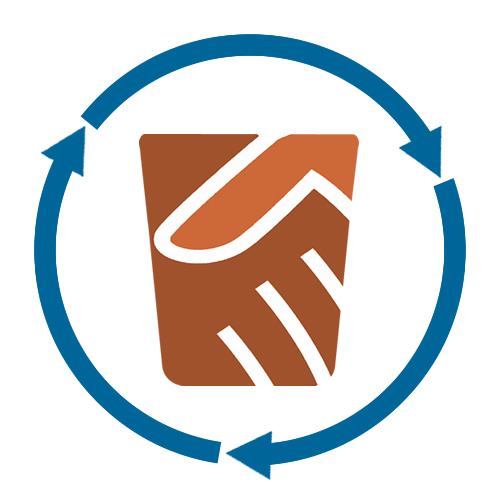 You purchase coffee and/or consulting services from Coffee 4 Missions, that money goes into our business from which we purchase sustainably source coffee, process that purchase, sell our product and then tithe back into ministries we support (1 Peter 4:10).
Currently we working towards a 20% tithe of Coffee 4 Missions revenues, but the goal someday is to become a 10/90 business where we live off 10% and give away 90%.  The first step: We operate 100% DEBT FREE. In fact Trish and I have lived most of our 38 years DEBT FREE. Because of that we know it's possible and we are trusting God to open those doors to us.
Please join us today. Test drive our coffee, order a bag. Try it in your church, in your home, in your business.  We know you'll love it. We were mentioned in Southern Living Magazine several years back as one of the Top Roasters in Alabama.
Dream of starting a Coffee Shop Ministry or Third Space as they are called today? Call us and let's talk about consulting with you and working out the details and encouraging you through our proven system.  Have a Church Café and need to up your game?  We can do training.
Proverbs 27:17 professes this wisdom: "Iron sharpens iron, so one man sharpens another". We have the background, the products and we want to help.
Questions? Contact us and let's talk!